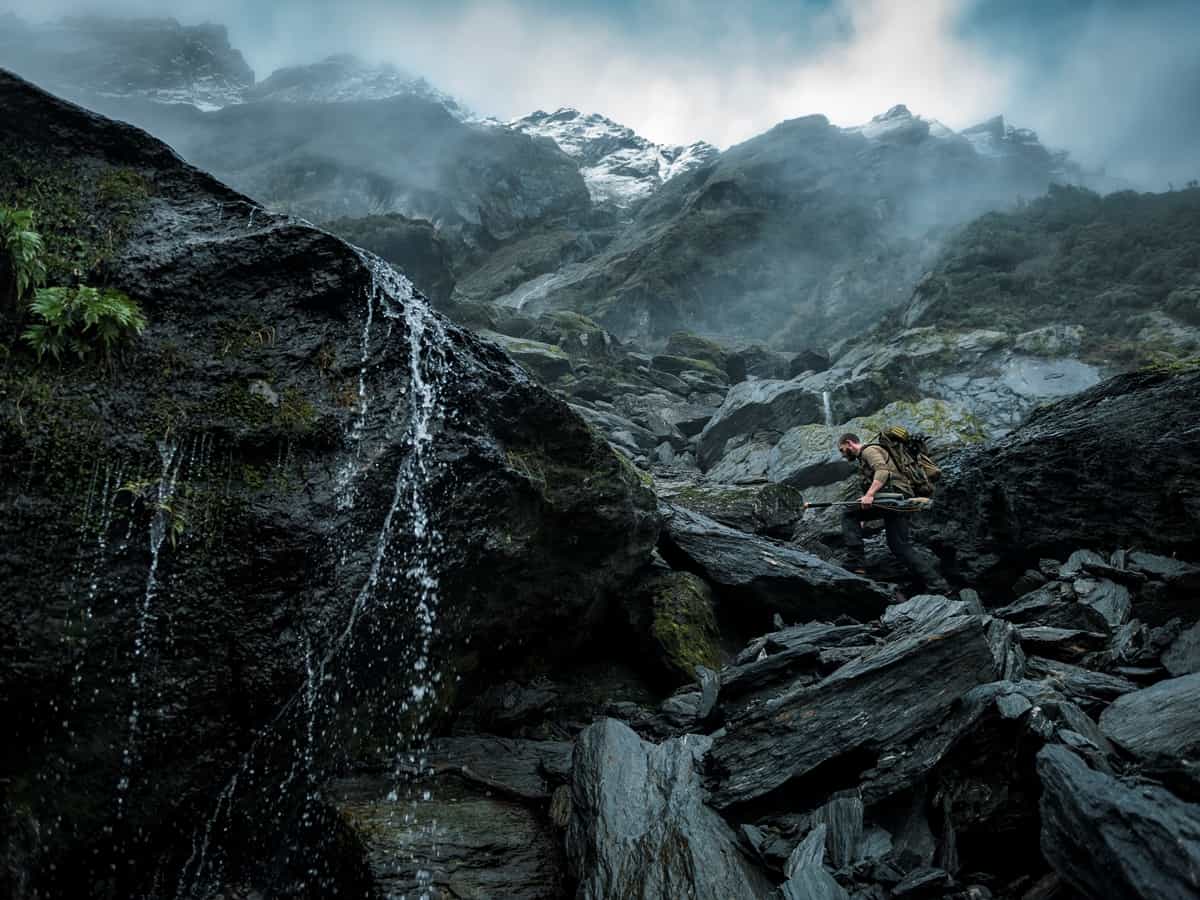 Flyleaf image courtesy of the very talented Hans Bergrem.
Introduction to Hunting Life – Moments of Truth 
'I've got one for you', Dewy launched out of his rocking chair and dived into his overflowing bookshelf. I'd found myself halfway across the world in the Canadian Rockies, snowed in, sitting in a log cabin around a crackling open fire while sipping on coffee and whiskey. As the snow kept falling we ran out of steam on the guitar and harmonica so turned our attention to this old-style cowboy's extensive collection of hunting books.
Dewy reckoned he'd found one that I'd enjoy. 'Chap by the name of Ryan, picked it up off a friend while travelling, it's a real dandy. Let's see, Hunting New Zealand: Parts Unknown, you heard of it?' I told him to flick somewhere near the middle and take another look at that young bloke running around the Fiordland mountains chasing wapiti. Dewy shook his head in disbelief as he realised that the Kiwi guest warming himself by the fire was the same character in the book posing with a pretty spectacular bull.
There's that old saying that quality stands the test of time and it's certainly true. I also think quality travels, and that masterfully crafted hunting tales will end up in all sorts of nooks and crannies across the world regardless of where they come from. Pete's first two books — Wild South and Hunting New Zealand: Parts Unknown — certainly fall within this category. The perfect combination of adventure and nostalgia, constantly engrossing encounters that leave you eager for the next page.
While Dewy was still coming to grips with the remarkable situation we found ourselves in, I tried to get the conversation flowing again. 'He's a good bastard is Pete.' 'Oh, so you know him?' 'Spent two days in a duck blind with him shooting side by sides and discussing the finer things in life — tell me a better way to get to know someone?'
Aside from differing opinions on whisky (Pete's an Islay man, I prefer Speyside), it's fair to say we got on well while filming a vintage waterfowl episode for the television show I produce, NZ Hunter Adventures. I relished his company and yarns, and going by the glint in his eye, the hunt had all the right ingredients to make it memorable for him too.
Fast forward a few years and Pete gave me his manuscript for Hunting Life – Moments of Truth. 'Willie, I think this is the one. Reckon you'll like it.' Compelling words from one of the great hunting authors of the modern day.
Moments of Truth. The very words convey so much meaning, hunter or not. My mind drifts back to all those defining times and the choices I have made, for better and worse, both in life and on hunting adventures. It might be a cliché but let me tell you, this latest instalment in the Peter Ryan masterclass  is not to be missed. As Dewy would say, it's a real dandy.
I'm a firm believer of never giving away the climax at the start of an episode and apply the same rule here. All I will say is that this book will take you across continents, eras and cultures, species ranging from big game to game birds. You'll meet characters who all have different reasons for why they hunt but share one thing in common — their success and memories are defined by decisions at critical moments. These are absolutely ripping yarns. I reckon you were right Pete.
Moments of Truth is the one.
Willie Duley – NZ Hunter 
Peter P. Ryan www.faraway.co