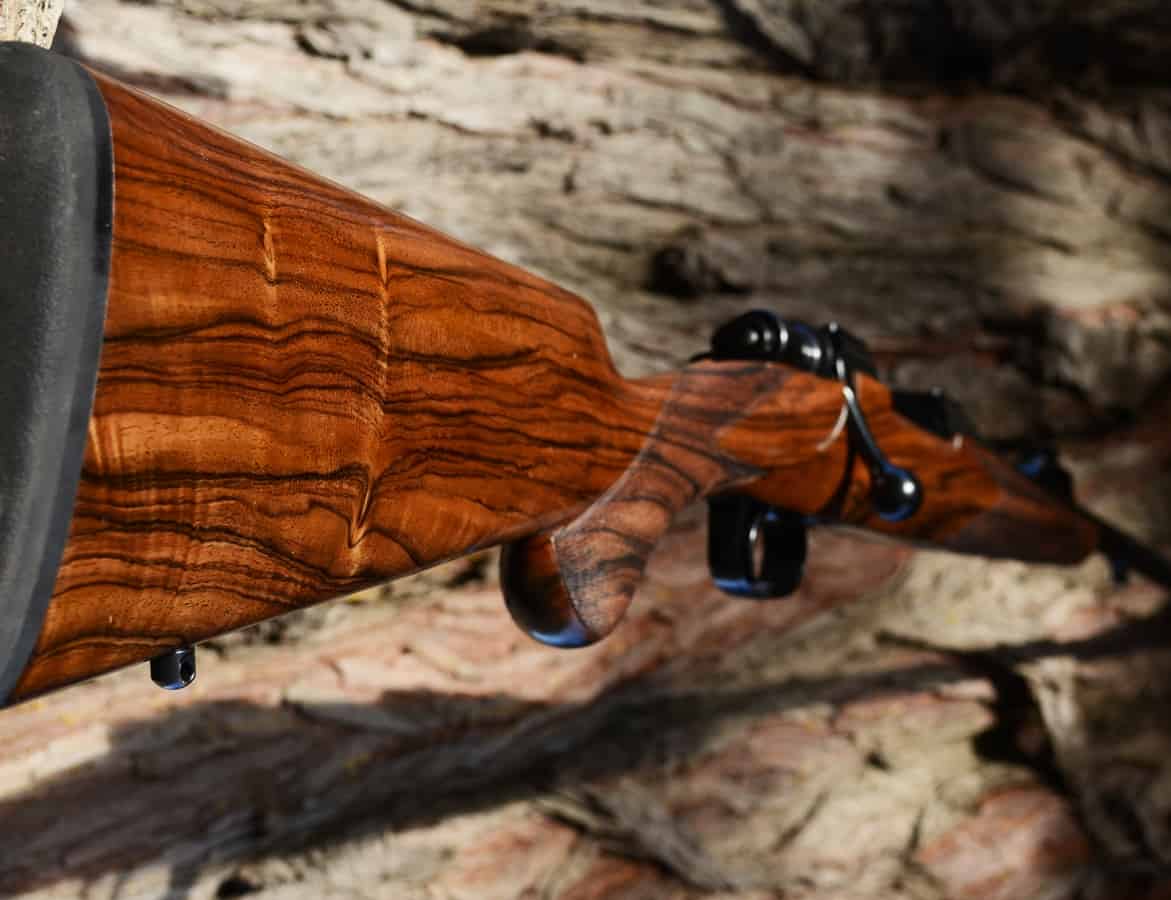 I've owned a lot of rifles over the years, and by a lot I mean too many to be practical. Through all that time there was a little siren song nagging away in the back of my mind…but the time was never right.
Well now it is. Quite by chance I found a nice small ring, double square bridge Mauser action, made in 1949 and now scarce as hen's teeth. Butterknife bolt. Proper steel throughout, no plastic or alloy. Barrel band and classic front sight.  Sweet, but it was the chambering that clinched it – you guessed it, 7 x 57. In other words, the heart of a classic light African sporter, just waiting all those long years to be put together.
The wood comes from the South Island, from an English walnut planted in the 1860s. It was dug out and slabbed in 1994, the blank cut in 1998, then carefully aged for a decade. Kevin Gaskill did the stock work in the style of the early Hollands and Rigbys. The sling will be from the hide of my own Cape buffalo. Being a double square bridge there's no hassle with drilling, mounts go straight onto the 19mm dovetail. They are the superb QD model made by Morris Melani at Alaska Arms. It took six months to put together.
As Paul Mauser might have said, if the world were a fair place the 7 x 57 would be called the 7mm Mauser. It was an astonishingly modern invention for 1892, way back at the dawn of smokeless powder. As it is the Englishman John Rigby simply named it after himself not long after and so we also have the .275 Rigby for anglophiles. Today there would be lawyers involved. Incidentally commercial manufacturers are still using Mauser's bolt action design, well over a century after he devised it. The equivalent would be someone taking the patent for say the A380 airbus or the flat screen TV back in 1895. Impressive if you think about it.
Whether you call it 7 x 57, .275 or 7mm Mauser it's usually seen today as a fading cousin of the modern and highly efficient 7mm/08. I'm a fan of the '08 and used it to hunt rusa deer in New Caledonia. It's a genuinely effective round, but the 7 x 57 has more case capacity, and infinitely more charisma.  It's like comparing a lunch room microwave to a wood-fired pizza oven – superficially the same thing, but the reality is very different.
The 7 x 57 is a handloader's dream. It's no trick to make 140 gr spitzers shoot remarkably flat, even by 21st century standards, but when you move up into the long, heavy for calibre bullets like the 175 gr round nose it becomes something unique. With incredible sectional density they just don't stop for anything, as Karamojo Bell proved, so long as you have enough twist to stabilise them.
Speaking of which, the list of 7 x 57 fans is a long and impressive one. Bell, of course, took many of his 1000 odd elephants with it. The handful of Boer commandos who gave the British empire so much trouble. In India Jim Corbett used it to take down famous man-eating Leopard of Rudraprayag and other man eaters. Jack O'Connor used it a lot. The Queen, who still has hers. Then there are all the professionals of the modern era – Mike Rowbotham, Peter Johnstone and the rest. My good friend Roger Pinckney, senior editor at Sporting Classics magazine and a natural gentleman, swears by it as his best and most enduring love affair in the rifle world.
In short it's heady and exciting stuff. Will keep you posted on developments.
Peter P. Ryan www.faraway.co